Organisation
ASDIC is overseen by a Steering Committee made up of representatives from Drop-Ins, Delivery Partners and key stakeholders, under a Chairman. Day to day management is provided by a General Secretary who is responsible to the Steering Committee through the Chairman. He/she is supported by a Marketing Manager who maintains the Directory of Drop-Ins and Delivery Partners, and looks after marketing, the Newsletter (Ping!) and social media.
The Steering Committee
Representatives of:
Delivery Partners:
Blesma – Pat Donachie  bsosouth@blesma.org
Combat Stress – Felix Davies   Felix.Davies@combatstress.org.uk
Greenwich Hospital – Shakeela Bagus   shakeelabagus@grenhosp.org.uk
Help for Heroes – Julian North  julian.north@helpforheroes.org.uk
NHS England Armed Forces and families' health team – National Policy Lead
The Royal British Legion – Craig Spence 

 cspence@britishlegion.org.u

k
Seafarers UK (non-attending)
SSAFA, the Armed Forces charity – Gary Williams   Gary.Williams@ssafa.org.uk
In support:
Mark Axler – MAON  mark.axler@maon.co.uk
Charles Swain
Staff
Tracy Bryant – Director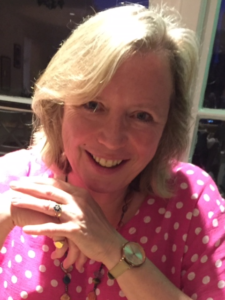 Tracy left the Royal Navy as a Lieutenant Commander in 1997 after 18 years of service. Specialising in weapons trials and analysis, she worked in training, became head of branch and had staff jobs in both Joint Headquarters and the MOD.  She also saw friends and loved ones through the Falkland Islands and Gulf wars.
After a break to devote to her family and young children, she then worked locally in East Sussex as a School Secretary in admissions and marketing, and as a Property and Relocation consultant and schools advisor.  Tracy continued to maintain strong ties with the ex-Service community and is a regular volunteer in support of military charities.  She is a member of the Chatham Naval Officers' Association and frequent attendee at local Sea Cadet Unit events.
Married to a Naval Officer who has spent the last 17 years in the ex Service charity world, she enjoys tennis, gardening, dog walking and singing in the local choir.
Malcolm Farrow OBE – Regional Director
Malcolm Farrow left the Royal Navy in 1996 as a Commander after 34 years service, immediately joining the Senior Civil Service as a 1* but was made redundant a couple of years later when the executive agency he ran was privatised by the government. He then rejoined the Navy as a Captain to be the Director of the International Festival of the Sea 2001 and again in 2005 as part of the Trafalgar Bicentenary team, before removing his uniform for the last time in late 2005.
Then followed 6 years as Assistant General Secretary of the Forces Pension Society, gaining wide tri-Service experience, before taking on the role for ASDIC. He has also worked within the charity sector. He is President of the Flag Institute and an advisor to the parliamentary all party group on flags and heraldry.
Peter Mosse – Founder
Peter Mosse left the Royal Navy as a Commander in 1991. Having been captain of a Type 21 frigate during the Falklands conflict, he spent 3 years in Washington DC and 5 years in MOD managing sensitive equipment programmes.
After leaving he led (non-defence) joint venture negotiations with Institutes in Moscow and St Petersburg and worked on public sector programmes with Logica, Interservefm and MoveCorp International (Heathrow T5).
In 2006 he started an IT company for collecting NHS patient data and then joined CORE IMS measuring mental health outcomes. He helped establish the NHS South Central Veterans (Mental Health) Service and in 2011 joined Veterans Outreach Support (VOS) Portsmouth Drop-In, helping them to become a charity, where he was CEO, became Chairman of Trustees and founded ASDIC. He was Master of a Livery Company 2016/17 and enjoys skiing, tennis, art and music.
Susie Horton – Marketing Manager
Susie has worked in the Marketing and Communications arena for over 15 years.  Working initially for Advertising Agencies in London and Singapore, she became an experienced Account Handler and then left to run her own business specialising in Database and Contact Management systems for Charities and not-for-profit organisations.
Susie now works as a freelance marketing consultant for a number of different organisations, concentrating on their marketing strategies, branding and social media requirements.  She also works part time for the Royal Maritime Club, as their Marketing and PR Manager.
Office – Admin Support
Saffron Cohen
Saffron has been an active volunteer with Veterans Outreach Support (VOS) since 2016 and was awarded the Portsmouth Young Volunteer of the Year in 2018.  Having successfully graduated with a Bachelor of Science in Psychology from the University of Southampton, she is now working with VOS as an Assistant Psychologist.Saffron has a passion to pursue a career in Trauma Psychology.
After recovering from her own injury, Saffron now enjoys peer mentoring children and young adults who have experienced a burn injury and is a volunteer for a number of Burn Charities across the UK.  Alongside voluntary work, she enjoys swimming, dog walking and socialising among friends.