Regional Directory
With the growing membership of Drop-Ins across the UK, a regional structure of support has been established to allow ASDIC to deliver its objectives most effectively.  The voluntary Regional Coordinators below will help facilitate cooperation and collaboration between member Drop-Ins in their area so that they can support veterans in need in the best way possible.  Integration into local networks of support are also encouraged and nurtured.  This also enables local issues with wider implications to be highlighted to the ASDIC Management Team as necessary.
All Regional Coordinators can be contacted directly using the details below.
Each RC will be assigned an asdic.org.uk email address in due course.
The current map approximately reflects these boundaries.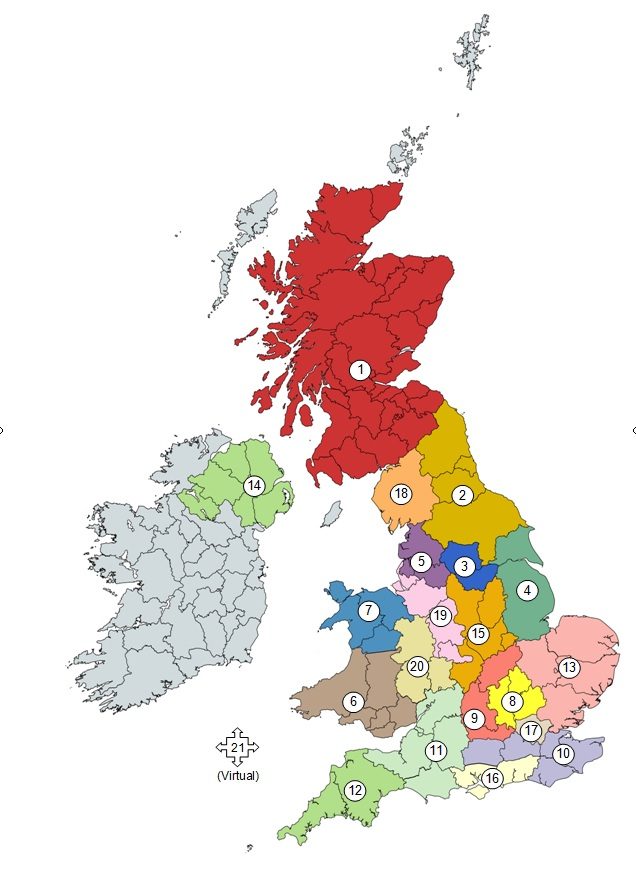 Regional Coordinators
Boundary:
Covering the whole of Scotland
Regional Coordinator:
Bruce Smith
Boundary:
Northumberland, Tyne & Wear, Durham, and North Yorkshire
Regional Coordinator:
Paul Moore
Boundary:
South & West Yorkshire
Regional Coordinator:
Adie Hunt
Boundary:
East Riding of Yorkshire and Lincolnshire
Regional Coordinator:
Paul Matson
Boundary:
Lancashire incluuding Greater Manchester
Regional Coordinator:
Alison Bunn
Boundary:
Gwent, Cardiff, South East Valleys, Swansea, Dyfed, Brecon & South Powys
Regional Coordinator:
David Trotman
Boundary:
Ynys Mon, Gwynedd, Clwyd & North Powys
Regional Coordinator:
Ray Lingwood
Boundary:
Buckinghamshire, Hertfordshire, Bedfordshire
Regional Coordinator:
Liz Burns
Boundary:
Oxfordshire, Berkshire, Northamptonshire
Regional Coordinator:
Ian Ridley
Boundary:
Surrey, Sussex (E), Kent, Northern part of Hampshire
Regional Coordinator:
Roger & Lucy Nield
Boundary:
Bristol, Gloucestershire, Cornwall, Somerset, Wiltshire, Dorset
Regional Coordinator:
Kiley Pescott
Boundary:
Devon & Cornwall
Regional Coordinator:
Susanne Archard
Boundary:
Norfolk, Suffolk, Essex and Cambridgeshire
Regional Coordinator:
Julian North
Boundary:
The six counties
Regional Coordinator:
Liz Brown
Boundary:
Nottinghamshire, Derbyshire, Leicestershire, Warwickshire & Rutland
Regional Coordinator:
Rick Harrington
16. Central South Coast & IOW
Boundary:
Southern Hampshire, IOW & Sussex (W)
Regional Coordinator:
Ian Neville
Boundary:
Inside the M25
Regional Coordinator:
Claire Bendall
Boundary:
Cumbria (i.e.Cumberland & Westmorland)
Regional Coordinator:
Paul Moore
Boundary:
Staffordshire, Cheshire & Merseyside
Regional Coordinator:
Trevor Bailey
Boundary:
Herefordshire, Shropshire, Worcestershire
Regional Coordinator:
Lynne Gladwin & Bob Pye (from January 2021)
Contact
Details to follow in January 2021
Boundary:
Entire UK - Online only
Regional Coordinator:
Len Chappell